IsraelSeen Exclusive – Staying Calm and Holding One's Ground in The Face of Floodwaters To Save a Life
One Friday afternoon, Moshe Rave was driving his ambucycle when the ever-alert medic noticed a group of people down by a wadi near the road. The scene looked odd to him so he drove his motorcycle in the  direction of the gathered group to learn what was going on.
He immediately saw what the commotion was about. Winter rains had caused a huge amount of runoff to fill the usually dry low-lying area. Someone had apparently thought that his Jeep could drive through it, but the rising waters flooded his engine. The driver and his 7 year-old son were trapped in their stalled vehicle by the fast-moving current and a crowd of spectators had gathered, drawn by the unusual sight and the desire to help.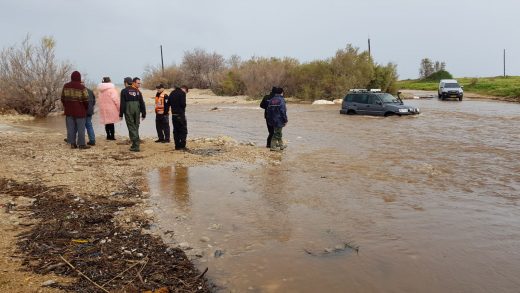 Realizing that the incident could rapidly turn deadly, Rave quickly alerted United Hatzalah's Dispatch and Command Center and asked them to send the fire department and the special rescue unit to help extricate the trapped driver and his son. Following this, the resourceful medic called across to the trapped man and asked for his cell number, so that they could communicate by phone instead of shouting.
After getting the driver on the phone, the driver told Rave that he was going to break a window in order to get out of the car. In the strongest possible terms, Rave warned him that he ran the risk of overturning the vehicle. "Don't move," he told him. "I've called rescue services and they are on the way."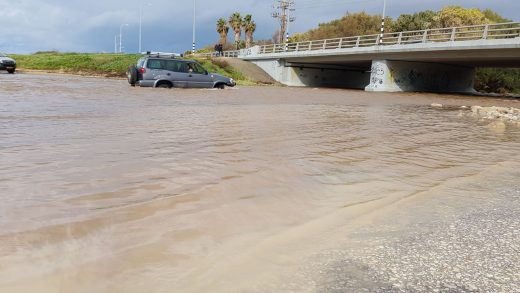 The driver was reluctant to wait, wanting to at least get his son out the car. Knowing that every movement might cause the Jeep to flip onto its side and sink, Rave firmly advised him to stay still. They were currently safe, and "rocking the boat" was not a wise thing to do. Rave continued to keep the man and his son calm and remain inside the vehicle until a rescue unit arrived. The rescue unit extricated the frightened little boy and his father, bringing them back to dry land unharmed.
Rave got back onto his ambucycle and headed home with the knowledge that both father and son could have easily lost their lives that day. His rapid intervention had ensured their safety.