Ariel Ben Avraham – Ecclesiastes: The illusion of vanity and the reality of love (XXIV)
"I turned about with my heart to know and to search out and to seek wisdom and the reason of things, and to know the wickedness of folly and the foolishness and madness. And I find bitter than death the woman whose heart is snares and nets, her hands are bonds; whoever is good in God's sight will escape from her, and a sinner will be taken by her." (Ecclesiastes 7:25-26)
We can't fathom the reasons of an uncontrolled behavior, and more so in regards to others. The example presented here about wicked manipulations is another case when people are blinded by their mistaken understanding of life, in which goodness does not exist. Those who share the same approach get trapped in the destructive fate of living in the absence of goodness.
"See, this I have found, said Kohelet, adding one to another to find out the account, which my soul sought yet, but I did not find. One man out of a thousand I found, but a woman among all these I did not find. See, only this one have I found, for God made man straight, but they sought many intrigues." (7:27-29)
The statistics presented by Kohelet are appalling in a world where goodness is the ruling principle in God's creation. This brings us to reflect on the reasons that human beings may have to follow negative traits and trends out of ego's fantasies and illusions as the "many intrigues" that they rather choose instead of the righteousness of goodness' ways and attributes.
Intrigues invite manipulations derived to feelings or beliefs of lack that compel us to control others in order to get what we think that will satisfy our envy, coveting, lust, anger and haughtiness.
As long as we disregard goodness as the source of fulfillment for all our needs, wants and desires with its righteousness and justice, we will continue living in fantasies and illusions.
"Who is like the wise man? And who knows the interpretation of a thing? A man's wisdom makes his face shine, and the boldness of his face is changed." (8:1)
We have said that goodness is the principle that defines the qualities of wisdom which leads us to understand ("interpret") what we face in life.
The verse brings up light as an abstraction of goodness to teach us that our wisdom must reflect goodness as radiance can shine from a face. This reminds us the second of the three priestly blessings in the Torah.
"May the Lord shine His countenance on you, and make you gracious." (Numbers 6:25)
In Judaism we know that Divine principles and attributes are symbolically compared to human traits or other material quality such as face, light, hands, darkness, eyes, crown, etc. Hence God's light is related to the goodness with which He creates, rules and sustains His works, that makes us graceful as an expression inherent in goodness.
As we live in, with and for goodness, the face that represents our identity changes to reflect who we really are with the "boldness" required to approach every aspect of life.
"I [counsel you]: keep the King's command and that in regards to the oath of God." (Ecclesiastes 8:2)
We exercise our Jewish identity by keeping God's instructions and commandments as the allegiance or Covenant that we have with Him. The Torah says that we are His chosen people, yet we must choose back to His will in order to fulfill our partnership.
This and all the verses in the Hebrew Bible are presented in the context of being, having and doing goodness as the purpose of such Covenant.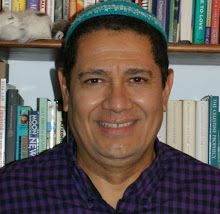 Kochav Yaakov, Shomron (Samaria), Israel Ariel Ben Avraham (f. Zapata) was born in Cartagena, Colombia in 1958. After studying Cultural Anthropology in Bogotá moved to Chicago in 1984 where he worked as a television writer, reporter and producer for 20 years. In the 1990's he produced video documentaries related to art, music, history and culture such as "Latin American Trails: Guatemala" distributed by Facets.org. Most of his life he studied ancient spiritual traditions and mysticism of major religions, understanding the mystic experience as the individual means to connect with the Creator of all. Since 2004 he studies and writes about Jewish mysticism and spirituality mainly derived from the Chassidic tradition, and the practical philosophy of the teachings of Jewish mystic sages. The book "God's Love" is the compilation of many years studying and learning Jewish mysticism. The messages of his book are part of the content, exercises and processes of a series of seminars, lectures and retreats that he facilitates in Israel.