Israel Seen Exclusive – Woman Rescued From Being Crushed Under Tractor-Trailer
On Wednesday morning a potentially tragic accident occurred, when a woman fell in the street and got trapped under a tractor-trailer.
Barak Hillel had just left his synagogue in his hometown of Ramla, where he had attended morning prayers. Feeling famished, he was on his way to get a bite to eat when he received the urgent alert from United Hatzalah headquarters alerting him to an accident that had taken place nearby. Without a moment's hesitation, the devoted medic flipped on the lights and sirens and raced to the scene on his ambucycle. He arrived at the location within a few short minutes.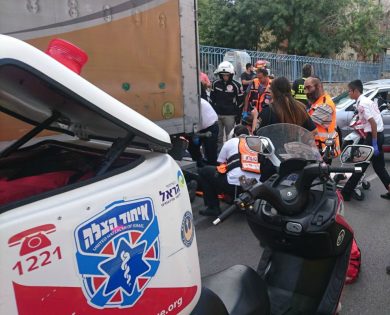 Hillel was joined at the site of the accident by additional ambucycle medics from United Hatzalah. The team of dedicated volunteers discovered a 40-year-old woman underneath the truck in excruciating pain. She had sustained lacerations, contusions, and suspected fractures. The emergency medical technicians (EMTs) worked with the driver of the tractor-trailer to carefully move his vehicle, so as to safely extricate the panicked woman. Hillel and his colleagues then calmed and reassured the woman as they treated her wounds and assessed her injuries.
By the time emergency crews arrived at the scene, 15 minutes later, the now-stabilized patient was prepped and ready for transport. Hillel assisted as she was transferred to the back of the ambulance and whisked away to the trauma center.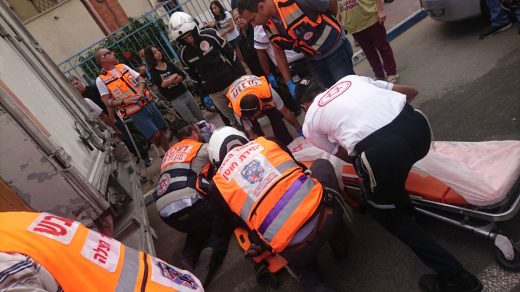 After hearing about the incident, Eli Beer, Founder and President of United Hatzalah said: "Thanks to the ambucycle medics who were able to respond so quickly to the emergency, this woman had the expert care she needed, when she needed it. This is how our network of volunteer emergency medical servicemen and women works. We get the emergency call, we alert the responders who are going about their daily lives, just like Barak was, and they grab their equipment and go save a life or treat an injured or sick person in need of help. Helping people as fast as possible is what United Hatzalah volunteers are all about. It is why we use ambucycles and electric bicycles, it is why our volunteers are trained to the highest level and take continual retraining. All in an effort to provide emergency medical services to those closest to them."