Israel Seen Exclusive – EMS Volunteers Respond to Building Fire in Less Than 2 Minutes
EMS Volunteers Respond to Building Fire in Less Than 2 Minutes – Evacuate Burning Building With No Lasting Injuries to Residents
On Tuesday morning at 8:44 a.m. United Hatzalah volunteer Ezra Gottlieb, was notified by the main dispatch center to an apartment fire in a residential building in Beitar Illit. Gottlieb jumped on his ambucycle raced to the building and arrived within less than two minutes. Gottlieb saw that a fire had begun in a store on the ground floor and that the smoke was billowing upwards towards the residential apartments. The incident looked like a disaster in the making. Gottlieb initiated Mass Casualty Incident Protocol, requesting numerous other volunteers and ambulances be sent to the scene.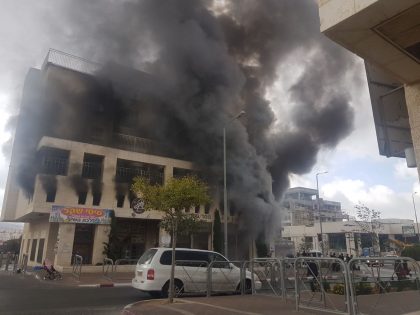 At his own risk, he ran into the smoky building and began banging on doors shouting "Fire! Fire! Everyone get out of the building." Within minutes he helped safely evacuate ten families, including women with babies and children. Together with other EMS personnel from United Hatzalah, Gottlieb took oxygen tanks and went one-by-one to all of the evacuees providing them with high-flow oxygen and ensuring that anyone who needed medical attention received it. Thanks to the quick arrival of Gottlieb and the other volunteers this incident ended without anyone needing any hospitalization.
The Housewares store, which had been full of plastic goods, blankets, charcoal and other flammable and poisonous items was completely burned.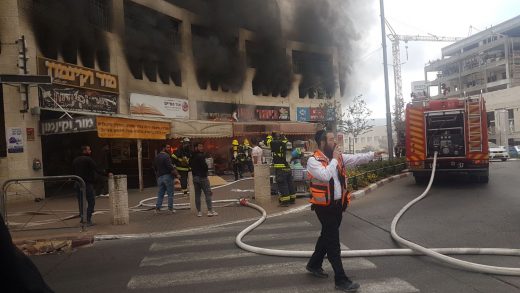 Eli Beer the President and Founder of United Hatzalah said: "Our volunteers are trained to worry about their own safety and the safety of those who are in need of help first and foremost. The heroic actions of Ezra Gottlieb and the other volunteers who responded to the fire in Beitar on Tuesday show just how much they care about saving the lives of others. To run into a burning building is not something most people would do. Our volunteers rush into danger when others are running away and that makes them true heroes. The assistance provided by our volunteers in this incident saved the lives of families, mothers, and children, who may have otherwise been severely hurt if not killed. The proximity of Ezra, together with the speed in which he arrived allowed for this tragedy to pass without any lasting injuries. Our network of volunteers and the professionalism of our dispatch officers notified the closest responders who saved the lives of the residents. That is what we exist to do."