Victoria Braverman – Cappuccino Culture
I heard recently that the Espresso Bar on the corner of Rothschild and Herzl in Tel Aviv is closing next week. It's sad, although I have to admit that it hasn't been nearly as good as it used to be since it changed hands a couple of years ago. It's part of a small chain and someone told me that the original branch, founded in 1992, was the first place to sell cappuccino (or, as it's known here, "hafuch", which means "upside down") in Tel Aviv.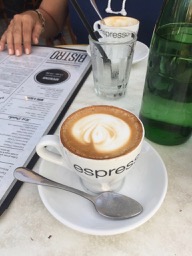 Now I don't know if it is indeed the case that before 1992 the only coffee served here was Turkish, botz (literally "mud", meaning hot water poured over coffee grounds and left to settle) or instant with a bit of milk, but just thinking about the idea that there was ever a time without a cappuccino culture here blows my mind.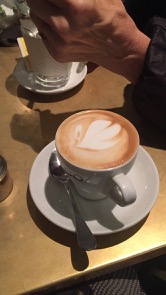 There's even an annual competition of cappuccino art, for goodness sake! Of course, the city is incredibly dynamic and prone to food and entertainment fads, so maybe in a couple of years time it will all have changed, but for now, cappuccino is king. You can vary it, by asking for small or large, not too much froth, low fat milk, served in a glass rather than a cup, and you can order it any time of day or night, unlike in Italy where they frown on you for requesting a cappuccino after breakfast.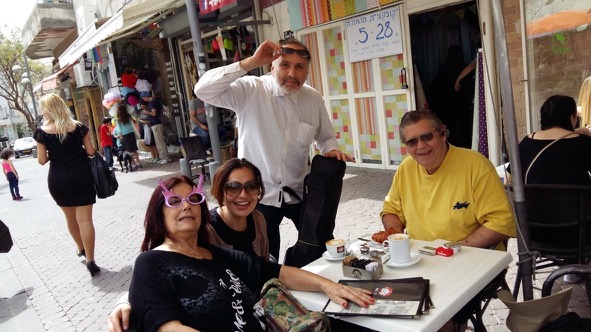 Sometimes I'll meet a friend for a chinwag over a cappuccino, at other times I'll sit on my own with my iPad or a book or simply enjoy a bit of people watching. It's nice, sitting on your own here. If you want to, you can usually remain undisturbed, but should you want to have human contact there are always people to talk to. Including the waiter or waitress. You just look up, make eye contact, smile and hey presto. So different to London, where the game seemed to be how to avoid eye contact. Joining in with conversations at adjacent tables is also a thing. It used to freak me out but after four years I've caught myself doing it occasionally. All this talk of coffee is giving me cravings, so I'll leave you with a few cafe pics whilst I go to get my fix.