To many who support the democratic state of Israel the name Ishmael Khaldi is well-known, since they have witnessed first-hand Ishmael's tireless work on the front lines of Israel advocacy.
As well as advocating for Israel, Ishmael has also for been advocating for his Bedouin community of Khawalid in the Western Galilee.
The only road to the village is unpaved, which causes difficulties for villagers in getting to work, accessing medical care and attending school. Ish asked for one thing – for Zevulun Regional Council to treat the village the same as any other, accept the need for a paved road, and do what any other community would expect: build it.
A few weeks ago, following his efforts to publicise this need, some right-wing media in Israel launched a vicious attack against Ishmael, publishing libellous, manipulative articles, deliberately misrepresenting his call for justice in his battle with the Zevulun Regional Council (מועצהאזורית זבולון) as an anti-Israel campaign.
These articles went viral and elicited vicious, ugly racist comments, incitements and threats against Israel's MOST ardent Bedouin Zionist.
Brothers and sisters, a friend in need is a friend indeed. But Ishmael is more than that. He's a warrior for Israel! Such articles not only question Ish's hard-earned reputation for integrity, but also are dangerous to our efforts to stand up for Israel equality, too. The wave of incitements and racist comments has no place in a progressive democratic society, whether it be Israel or indeed anywhere else.
WE who support justice and equality, and wish to stand against racism, call for an end to the libel and disgraceful misrepresentations. To question Ish's motives and integrity is wrong and an attack on all who wish to see justice and peace for all in Israel.
Zevulon Regional Council – Secretary of the Council Erez Arad
Zevulon Regional Council Head Etti Cohen, Office Manager
Ministry of Transportation and Road Safety
Prime Minister of Israel Benjamin Netanyahu
Minister of Finance
Ministry of Finance
Ministry for Social Equality
Minister of Social Equality
Minister of Diaspora Affairs Naftali Bennet
Ministry of Public Security
Chairman of the Knesset
Government Media Bureau
The 7th Eye
Justice for Khawalid Nigel Goodrich
Khawalid Resident Ishmael Khaldi
M Johnston
Jewish Agency for Israel
Galei Tzahal IDF Radio Station
Israel Katz, Minister of Transportation
Ministry of Transportation Director General
MK Anat Berko
MK Amar Hamad
MK Miki Zohar
Knesset Special Committee on Social Equality
Who is Ishmael Khaldi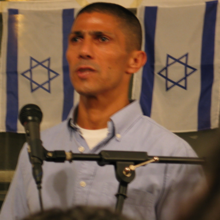 Early life
Ismail Khaldi was born in Khawaled, a village near Haifa.[3] He is the third of eleven children.[1] He lived in a Bedouin tent until the age of eight. He walked four miles (6 km) round trip to attend school[2] and tended flocks of sheep. He said his family's ties with its Jewish neighbors go back to the days of the early Zionist pioneers from Eastern Europe who settled in the Galilee region in the 1920s.[4]
Khaldi earned a bachelor's degree in political science from the University of Haifa[5] and a master's degree in political science and international relations from Tel Aviv University.[2] He served in the Israeli Ministry of Defense, Israel Police, and in the Israel Defense Forces as a political analyst.[6]
Khaldi initiated a project called "Hike and Learn with Bedouins in the Galilee" that has brought thousands of young Jews to Khawaled to learn about Bedouin culture and history. He said these encounters inspired him to become a diplomat.[4]
Diplomatic career
Khaldi began working for the Israeli Foreign Ministry in 2004.[5] In June 2006, he was appointed to serve in San Francisco, California, United States.[4][7][8] In August 2009, Khaldi was appointed policy advisor to the Minister of Foreign Affairs Avigdor Lieberman.[6] He describes Lieberman as "one of the most realistic, of course, but honest and direct politicians in Israel."[3]
Disruptions
In 2011, Khaldi was due to give a talk at the invitation of the University of Edinburgh's Jewish Society.[9] Pro-Palestinian protesters disrupted the venue, preventing the talk. This was viewed by many as a blow to freedom of speech on campuses.[10][11] University security officers had to be brought in after 50 protesters claimed to have shut down a lecture.
He was also disrupted by activists at Rutgers University and by Julio Pino, a professor of history at Kent State.[12][13]
Political views
Khaldi said there is still a long way to go before the Bedouin minority achieves full equality in Israel but the situation is improving, and more Bedouins are graduating from high school, entering universities and getting better jobs than ever before.[4] "There are differences in tradition and religion between us, but at the end of the day we are all Israeli citizens".[2] He considers himself a proud Bedouin and regards a Jewish state as beneficial to his community. He says it is through the alliance with Israel that the Bedouins have begun to transcend the isolation created by their nomadic traditions.[3]
Bibliography
Wikipedia